U-Bolts & Square-U Bolts
Square or Round top zinc plated or Hot Dipped Galvanized steel u-bolts are designed for outdoor corrosion resistance. Use for mounting tubing & Square brackets , designed to support most WiFi , PCS, Cellular, and TV antennas. Allows you to vary the mounting pipe length and diameter,
You can increase the amount of strength and holding power by utilizing multiple mounts space out over the length of the mounting pipe. There are many reasons you might need to use these mounts and they mostly involve the need to attach a pole to another pole to either extend the original or simply as an attachment point.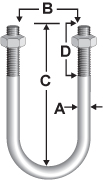 Rohn Hardware U-BOLTS, ROUND BEND, GALVANIZED Cross Reference.
Dimensions (inches)

Assy. Part No.

Weight (lbs./100pcs)

A

B

C

D

1/4

1-1/4

2-1/4

1-3/8

JR45GA

12/100

5/16

1-1/2

2-5/8

1-1/4

JR51A

15/100

5/16

1-1/2

2

1-1/4

JR55A

14/100

5/16

1-11/6

2-1/4

1

JR54A

15/100

3/8

13/16

1-5/8

7/8

JR69A

21/100

3/8

1

2-1/4

1-1/4

JR67A

23/100

3/8

1-1/4

2-3/4

1-5/8

JR66A

31/100

3/8

1-1/2

3

1-3/4

JR65A

29/100

3/8

2-1/8

3

1-1/4

JR68A

31/100

3/8

2-1/2

4

2

JR60A

35/100

3/8

2-1/2

3-1/2

1-1/2

JR61A

33/100

3/8

3-1/2

4-5/8

1-5/8

JR64A

41/100

3/8

4

6

2-1/4

JR62A

42/100

3/8

4-1/2

6-1/2

2-1/4

JR63A

52/100

1/2

3/4

3-1/2

2-1/2

JR81A

60/100

1/2

2

3-3/4

1-3/4

JR810A

63/100

1/2

2-1/4

4-1/2

2-1/4

JR82A

71/100

1/2

2-1/2

4-1/2

2-1/2

JR83A

71/100

1/2

3

5-5/8

3

JR84A

84/100

1/2

3

4-1/8

1-1/2

JR84SA

73/100

1/2

3-1/2

6

3

JR88A

88/100

1/2

4

6-1/2

3-1/2

JR89A

98/100

1/2

4-1/2

6

2-1/4

JR85A

91/100

1/2

5-5/8

8

3-1/4

JR86A

114/100

1/2

6-3/4

9

3-1/4

JR87A

127/100

1/2

8-3/4

11-1/8

2-1/2

JR90SA

188/100

1/2

10-7/8

13

2-1/2

JR110A

198/100

1/2

12-7/8

15

2-1/2

JR120A

243/100

3/4

3

5-3/4

3

JR121A

199/100

3/4

3-1/2

6-1/4

2-3/4

JR122A

263/100

3/4

4

6-3/4

2-1/2

JR123A

284/100

3/4

4-1/2

7-1/4

2-1/2

JR124A

280/100

3/4

5-5/8

8-5/16

2-1/2

JR125A

318/100

3/4

6-3/4

10

3-1/2

JR126STA

390/100

3/4

8-3/4

11-3/8

2-1/2

JR128A

424/100

3/4

10-7/8

13-3/8

2-5/8

JR1210A

517/100

3/4

12-3/4

15

2-1/2

JR1212A

591/100